As one of the world's most popular travel destinations, New York City is very well documented. Pick up a travel guide to learn when you can see the Statue of Liberty, how to get the best seats for Hamilton, the best places to stay or tips on exploring the Big Apple. But what about those places that aren't mentioned in the guide books? A vast city like NYC is overflowing with secrets that not everyone shares, but BlueOrange, a travel agency in NYC, is now sharing those previously undisclosed spots. Make your next visit to New York memorable when you explore these undiscovered places.
The Morgan Library
Often overshadowed by beautiful book-filled places in the city like the New York Public Library, the Morgan Library was the personal collection of Pierpont Morgan, the space became a public institution in the hands of Pierpont's son, J.P., and now the space houses incredible architecture, amazing art and traveling exhibitions from around the globe. Especially don't miss Mr. Morgan's private library covered from floor to 30-foot ceiling with book shelves and gorgeous artwork.
Whispering Galleries, Grand Central Terminal
Stand in one corner of bustling Grand Central Terminal, face the wall and whisper secrets to your partner across the station, and they will hear you, even at rush hour. Sound waves travel over the walls to waiting ears at the other side of the archway, making this NYC gem a popular spot for marriage proposals. Stop by the terminal's Oyster Bar and then spend the evening telling your private secrets in a very public place.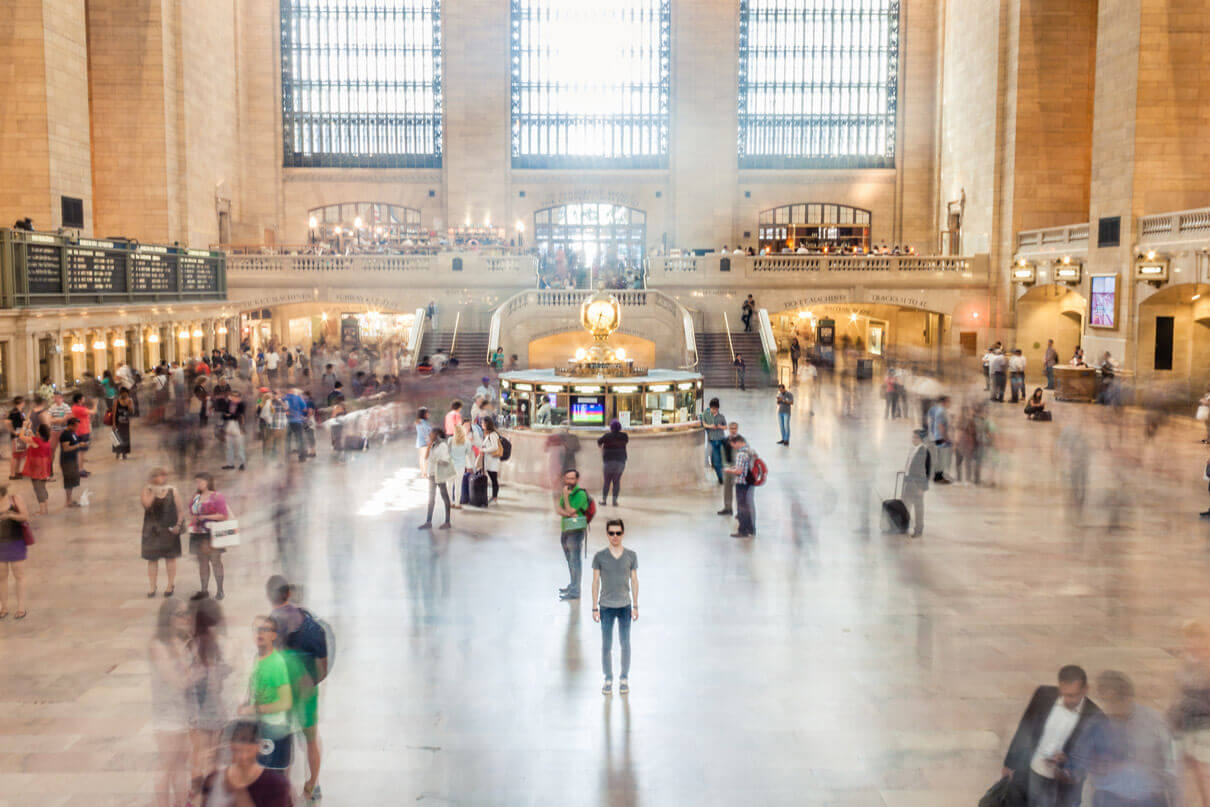 The Waterfall Tunnel
Located on Sixth Avenue between 48th and 49th Streets is a mini waterfall that flows over a pedestrian walk way connecting two streets. Walkers are protected from the spray by a circular plexiglass tunnel, creating a barrier between the downpour and the passersby. Located a quick walk from Times Square, the tunnel is a soothing respite from a bustling city.
Fairy Doors
If you look carefully, all over NYC are tiny, fairy doors. In fact, miniature doors have appeared all over the city and her Boroughs, sparking conversations and questions from anyone with keen eye. Begun to promote artist Cynthia von Buhler's work the Speakeasy Dollhouse, these doors are now also created and placed by fans of von Buhler's work.
A True Secret Garden
The brick wall surrounding St. Luke in the Fields may look plain and expected, but inside is a true secret garden. Boasting over 100 species of birds that visit and many types of moths and butterflies, the garden is open for visitors to stop and enjoy a quiet respite from the bustling city outside. And with over two-thirds of an acre, these gardens are revered by all who enter.
The Berlin Wall
NYC is home to a piece of the Berlin Wall, although it's hidden and often confused for another city mural. This 12-foot-high and 20-foot-long concrete segment was transported after the wall was destroyed in 1989 and is displayed publically, although not in a museum where you might expect it. This colorful piece of history is tucked into a courtyard on Madison Avenue near Paley Park.
Of course, city as big as New York has millions of secrets to tell. Contact BlueOrange Travel, a travel agency in NYC, to plan your next Big Apple trip so you can find your own hidden gems.