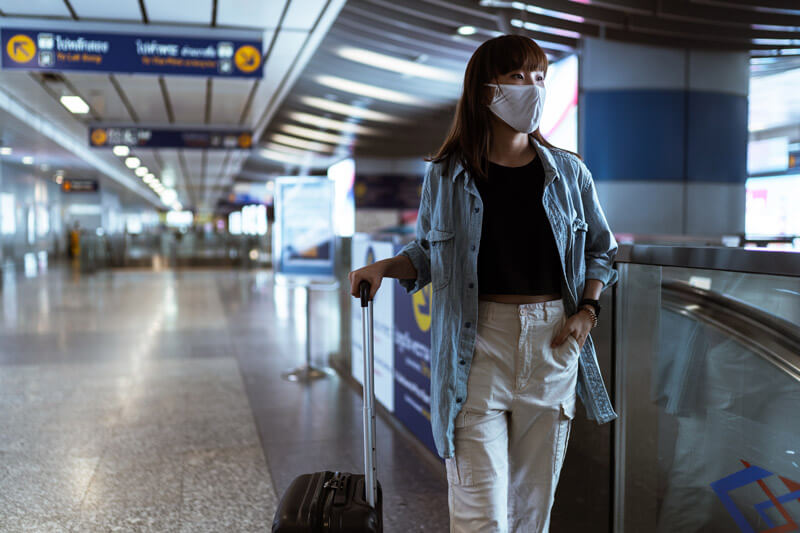 With new information about the Coronavirus, how it is transmitted, and how travelers can protect themselves, the Transportation Security Administration has updated their procedures for airport screening. These new guidelines will work to keep both TSA officers and travelers safe during the global pandemic. BlueOrange Travel, a travel agency based in New York City, has been following the changes to travel procedures and practices. These COVID-19 travel guidelines are the latest safety precautions.
COVID-19 Travel Guidelines from the Transportation Security Administration
TSA Will No Longer Handle Boarding Passes
Instead of handing boarding passes off to agents, passengers will place their paper or electronic passes on the code reader and hold it for the officer to inspect. This reduces the chance of cross-contamination.
Foods Should be in Clear, Plastic Bags
Any food travelers carry through airport security should be in a clear, plastic bag and taken out of carry-on bags before being put into a bin for inspection. Because foods sometimes trigger alarms during the screening process, removing it from carry-on luggage means that fewer bags will need to be opened for closer inspections.
Travelers Should be Extra Vigilant about the Rules
Guidelines, like the 3.4-ounce liquid limits, are even more important now in order to minimize the amount an officer has to touch or inspect a passenger's bag. If there are prohibited items, passengers could be asked to remove them and return through security after throwing them out. One exception is hand sanitizer. Up to 12-ounces of hand sanitizer will be allowed through security, but please remove it from bags before screening.
Practice Social Distancing When Possible
Some airports and security areas have markers on the floor to remind passengers to stay at least 6-feet apart while waiting in lines. Also, look for signs that will assist travelers in maintaining social distancing guidelines.
TSA Agents Will Wear Facemasks and Gloves
Agents at security checkpoints will wear facemasks and gloves while on duty. In addition, eye protection is necessary when there will be close contact with passengers. Officers will also change gloves after each pat-down search of a passenger. Travelers are also encouraged to wear facemasks, and this is required in many airports.
Place Loose Items into Carry-on Bags
Rather than putting keys, wallets, and other loose items into the bins next to your carry-on, it is recommended that all loose items be secured into carry-on bags. Keeping your phone and anything else you typically keep in your pockets out of the bins helps to reduce shared touch-points during the screening process.
Arrive with Extra Time for Screening
New procedures and processes might take longer than expected, even with fewer passengers in the airport. It is recommended that passengers allow extra time to make it through airport security before boarding their flights.
Be prepared before you fly during the pandemic with these updated COVID-19 travel guidelines from TSA. Plan your next business or leisure trip with BlueOrange Travel. Contact us today.