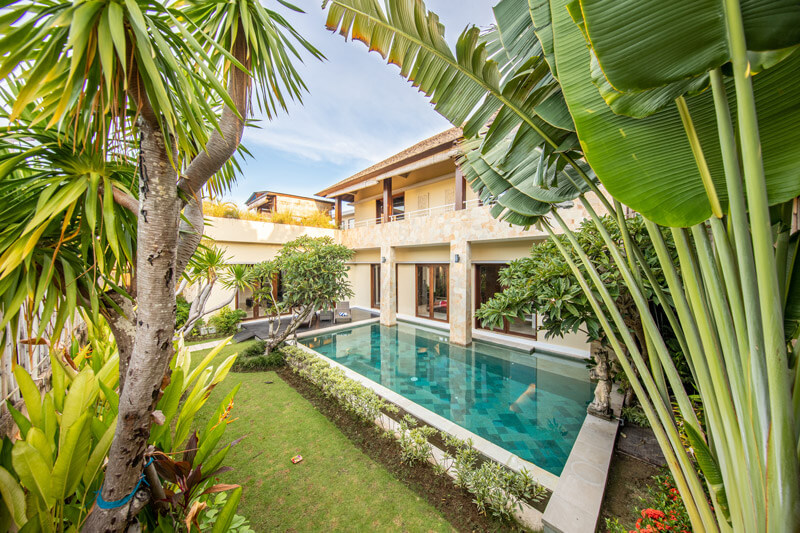 A vacation during quarantine might be just what you and your family need to break out of at-home routines, refresh your outlook, and enjoy the summer. BlueOrange Travel, a New York City-based travel agent, has the perfect solution to your vacation dreams: a luxury villa. By traveling to a dream destination and isolating your family in a beautiful setting, you are able to take a break from the stresses of work or at-home life right now so you can enjoy each other and time together again.
Luxury Villas Provide the Perfect Destination for Your Quarantine Vacation
Discover some of the most welcoming villas around the world to help you decide where to travel next.
Discover Old World Europe
With three bedrooms located on the beach southeast of Athens, this villa boasts a simplistic, modern design and chic sophistication. Rent a rib boat and explore the nearby islands or enjoy a delicious meal on the patio next to an infinity pool.
Getaway to this chic villa that offers an incredible pool-side terrace with ocean and pool views. Stroll through manicured gardens, relax in comfortable and modern furnishings or walk and explore Mallorca's sandy coves.
This four-bedroom villa offers you space for your family and a charming setting to relax and recharge. Enjoy your meals on the shaded terrace or take a swim in a refreshing, private pool. Charming furnishings and privacy make this elegant villa an ideal home away from home.
Casina di Mello, Tuscany, Italy
Fine foods, memorable wines, and a beautiful setting await you in Tuscany. This villa offers a covered terrace, barbeque, pool, and lush gardens. Inside, enjoy air-conditioned bedrooms, jacuzzi tubs, and two kitchens.
This countryside villa is part of a complex that includes manor buildings, a swimming pool, gardens, a courtyard, and a chapel that date back to the 16th century. With Baroque-style furniture, five bedrooms and bathrooms, and plenty of space to spread out, your family can rest and relax in style.
Idyllic Beach Escapes
2B at Peter Bay, St John, US Virgin Islands
Look out over the crystal-blue Caribbean waters from this villa located on St. Johns. With an open design to let you experience sweeping views, you'll feel like you are staying in paradise. Sink into the plush furnishings, stroll on the walkaround balcony or soak in the hot tub to fully unwind during your stay.
Floral Gardens G102, Maui, Hawaii
Make your quarantine vacation unforgettable at this villa in Maui. Enjoy your own private lawn and garden that includes an outdoor grotto shower, swing and plunge pool, and hot tub. This villa feels like just a luxury home, but you can take advantage of the perks of being a member of the Wailea Beach Villas family.
Bluemoon at Fowl Cay, Exuma Islands, Bahamas
Located on a private, 50-acre island, Bluemoon overlooks North Beach with sweeping, Caribbean views. Explore the surrounding islands by day, and return to this luxury villa at night for luxurious furnishing, sun-drenched terraces, and king-sized bedrooms. White sand beaches are just a short walk from the back door.
Westhampton Beach House, Westhampton, New York
If you'd rather stay closer to home, this luxuriously furnished villa offers a beach getaway within driving distance. With an open floor plan, beautiful views and wraparound terraces, you might never want to leave. Bring your entire family and make plans to spread out and enjoy your vacation.
Cool Off in the Mountains
Forge Lake Lodge, Topton, North Carolina
Escape to the Smokey Mountains and the Nantahala National Forest in this 10,000-square-foot villa. With a rustic charm and a beautiful setting, your family can hike, go white-water rafting, or simply admire the unmatched views. With room for up to 16 guests, you can self-isolate with your extended family or friends.
Annie's House at the Chilko Experience, Chilko Lake, British Columbia, Canada
This two-story villa is ideal for adventure seekers. Enjoy a wide array of all-inclusive experiences, including horseback riding, kayaking, fishing, mountaineering, swimming in a private lake, and more. The villa is decorated with natural wood and rustic touches to make you feel at home in the wilderness.
Bighorn Penthouse, Beaver Creek, Colorado
Each room in this incredible penthouse offers ski-mountain views and is furnished with antique European furnishings. As part of the Ritz-Carlton family, this villa offers luxury touches that include a private chef on request, preferred tee times, complimentary Wi-Fi and more, so you can feel pampered.
Arrabelle Chalet at Vail Square, Vail, Colorado
Refined luxury awaits you at this villa at Vail Square. Spread out in two master suites and on the 270-degree wraparound terrace. Make your own meals in the commercial-grade kitchen, and connect with your family in the spacious rooms with comfortable furnishings. As part of the Vail Square Resort, you can enjoy access to the pool and Red Sky Golf Club.
Go Even Farther
Motu Teta- Tahiti, Rangiroa, French Polynesia
Discover your tropical oasis in the South Pacific Ocean. This Tahitian escape is unspoiled by tourism and offers a full staff, including a private chef. Warm yourself on the white-sand beaches; enjoy a delicious cocktail while you watch the sunset; experience daily excursions, including watching; or paddleboard, windsurf, sail, fish, and more.
Baan Talay Rom, Phuket, Thailand
Make yourself at home in this beautiful villa, located just 30 minutes from Phuket Airport. Look out over the pool from the master suite, relax in the private spa or jacuzzi or stroll down the Andaman coast. The staff is ready to welcome you to this incredible home.
Des Indes Villa I, Bali, Indonesia
Enjoy endless comfort and luxury at this Indonesian villa. With unique décor, an open bar pavilion, and glamorous furnishings, you'll have an unforgettable getaway. Take a dip in the lagoon-style swimming pool or walk to the beach. You'll find everything you need for an unforgettable vacation here.
Ambassador's House, Galle, Sri Lanka
Admire the sweeping views from the rooftop terrace of this beautiful villa. With a private pool, palm-shaded courtyard, and experienced staff, you'll feel pampered every second of your stay. Make yourself at home and relax in ultimate luxury.
No matter where you plan to go on your quarantine vacation, consider a villa for the ultimate luxury and space to continue your self-isolation. Trust the expertise of New York City-based BlueOrange Travel to exceed your travel expectations. Contact us today to start planning.