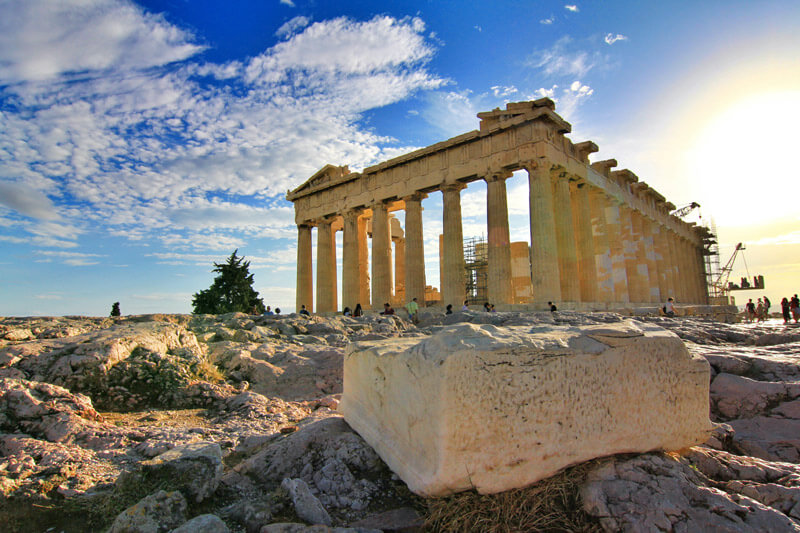 With your business and personal travel canceled thanks to the Coronavirus quarantine, how can you scratch your travel itch and need to see the world? The travel industry is turning to virtual tourism to fill the need to escape the confines of our homes and get off our couches, if only in our minds. Destinations and attractions are making it easy to explore the sights and sounds, so you can feel like you've left home without having to worry about COVID-19. BlueOrange Travel is taking a close look at the growing demand for virtual tourism and how the travel industry is answering.
Get Out of Quarantine with Virtual Tourism
Greece from Home
When COVID-19 forced hotels and attractions in Greece to shut down in March, the country turned to the Internet to support their industry and connect to a worldwide audience. By launching GreeceFromHome.com, the country's tourism authorities hope to give viewers the opportunity to experience Greece's architecture, museums, natural landscapes, villages, traditions, walking tours and more. The free YouTube videos include the chance to sing with the Greek National Opera, taste wines with Greek wine blogger Ted Lelekas, walk through Corfu, fly over beaches and discover the country in a new way.
Google Earth
Visit Google Earth's Voyager discovery page for a curated collection of tours from around the world. Tours range in subject and length, so you can find something to fit your quarantine style. SCUBA dive with Jill Heinerth to see icebergs and underwater caves. Stroll through the narrow and colorful streets of Viejo San Juan, Puerto Rico. Explore the Great Pyramid of Giza. Thanks to Google's 360-degree mapping technology, you can escape your quarantine to almost anywhere in the world.
Visit New York City
While the city is shut down, you can virtually experience a trip to the Big Apple thanks to virtual experiences. Broadway is dark through June 7, at least, but you can still experience the talent thanks to Broadway World's Living Room Concerts that feature actors singing from their homes. Similarly, the Metropolitan Opera in Lincoln Center is streaming past performances on its web site each night. Enjoy the art and culture at the Museum of Modern Art from your home, with Google Arts & Culture. Walk through Central Park with a virtual tour from the Central Park Conservancy.
Hike the Great Wall of China
Experience the splendor and sweeping views of the Great Wall of China. The China Guide has developed a virtual tour of the iconic section of the wall that stretches from Jinshanling to Simatai and crosses the border between Beijing and Hebei provinces. This section is currently closed to visitors, but you can see the sights from a safe social distance.
Relax in Maui
Of course, if you are imagining yourself on a beach somewhere, then pour yourself a fruity cocktail and tune into the live webcam from the Grand Wailea, Maui. The camera looks out over swaying palms, beautiful beaches, and the crystal blue ocean. When the sun is down in Maui, experience a time-lapse of the previous day's video. You can practically feel the Hawaiian sun from your favorite chair.
Don't feel trapped in your quarantine. Travel from home, if only in your mind. Experienced agent, BlueOrange Travel is based in New York City and offers travel guidance and services for businesses and individuals. We are ready to help make your next trip unforgettable. Contact us today.